Whitford-approved coating line. State-of-the-art.
Ome Metallurgica manufactures and distributes bolting & fasteners globally and merged officially with Stampinox in 2021. They are market leader for ASTM materials in Europe and one of the very few companies globally on the Approved Manufacturing Lists (AMLs) for industry-leading partners such as Shell, Aramco, Total and Exxon.
They invest continually in their plant, machinery, technology and staff and have proven adaptable to changing market conditions. Ome is the only studbolt producer with their own in-house Whitford-approved coating line (Xylan/Xylar). This delivers benefits in terms of both lead times and cost-efficiency.
We have been working with Omé Metallurgica since 2018 as the exclusive agent for the Benelux market. Due to their scale, Ome is Metrix' partner of choice for large-scale projects. Omé offers a particularly wide range of products thanks to the merger with Stampinox and its subsidiary Hexagonal.
The house-internal laboratory delivers complete peace of mind in terms of quality. Testing covers:
The house-internal laboratory delivers complete peace of mind in terms of quality. Testing covers: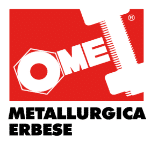 Our fasteners for your industry